Add Your Mobile App to Sweet Pricing
Add your existing Android or iOS mobile app to Sweet Pricing. You can add your app directly from App Manager, and create an account at the same time.
If you haven't yet created a Sweet Pricing account, you can create your account and your first app in one process. Simply find your app using our registration tool, which indexes existing Google Play and iTunes apps. The tool will estimate your app's monthly active users and recommend a suitable subscription plan.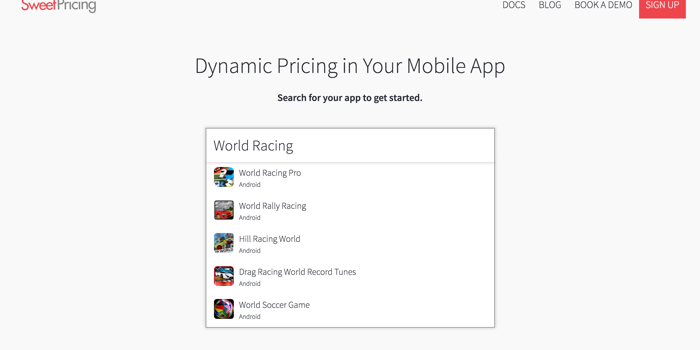 If you already have a Sweet Pricing account, you can add a new app from App Manager. First, sign in to your account. Then, rather than selecting an app, click 'New App' in the top-right corner of the screen:
The process is the same whether you are a new or existing customer. First, we will check that your mobile app is eligible to use Sweet Pricing. If your app is eligible, we will recommend subscription plans for Sweet Pricing Lite and Sweet Pricing Pro. You can also view pricing for our subscription plans from this screen.
Once your app is added to your account, you will have an opportunity to install and test Sweet Pricing in your app. By default, billing starts 2 weeks after you add an app to your account, but we are happy to extend the installation period if necessary.
What If You Cannot Find Your App, or You Haven't yet Published Your App on Google Play or iTunes
We index millions of apps on Google Play and iTunes. But, you might not be able to find your app if you only recently published it or you haven't yet published it on the app stores. If you cannot find your app, please contact us and we can add it to our index.
We price our product by monthly active users (MAU), and our registration tool relies on an estimate of MAU to recommend a subscription plan. If there's limited data for your app, we will be unable to recommend a subscription plan automatically. You'll see a 'Contact Us' link rather than a recommendation.