Using in-app subscriptions to monetize your mobile app can be extremely profitable. Although few app publishers are using subscriptions, you should seriously consider the monetization technique as an alternative to paid apps and in-app purchases.
Our recent app monetization survey shows that just 5% of popular mobile apps are using in-app subscriptions. The remainder show advertising, sell in-app content or do not monetize at all.
In this blog post, we look at why subscriptions are useful and how you can boost revenue with free trials and offering longer duration subscriptions. We also cover the recent app store changes that have made subscriptions available to more mobile app publishers.
You Can Use Subscriptions to Unlock Features or Access Content
Subscriptions are not suitable for every app. Apps that use subscriptions successfully deliver 'value' over an extended period of time, where value could be:
Premium functionality, such as access to a 'brain training' game;
Access to content, including news articles, movies or music; or
Unlimited usage of an app, such as the ability to like an unlimited number of people in a dating app.
If your app offers values in one of these categories, you should seriously consider using in-app subscriptions. Otherwise, you should consider using another monetization model, like in-app purchases, paid apps or advertising.
Consumers have become accustomed to subscription models, with businesses like Netflix and Spotify signing up tens of millions of users over the past few years. The emergence of the pay-per-month business model is rather recent, but is growing very strong. In the past few years, some of the most successful apps have relied on a subscription model, including many news and dating apps.
A Free Trial Is a Good Way for a User to Test Your Product
With paid apps and in-app purchases, users don't know whether your product or content is any good until after they have paid. For some users, that concern might prevent them from making a purchase. This partly explains why the freemium model has become so successful because users can experience your app before they spend any money.
With in-app subscriptions, you can take this a step further. You can offer your premium, subscription experience for free. At least, for a limited time. For example, if you have a music app with a monthly subscription, you can offer users a free trial of 1 month. Once the trial ends, the subscription will auto-renew every month until the user cancels.
You Can Offer Multiple Subscription Levels and Durations
If you offer subscriptions, you have the ability to offer multiple subscription 'levels' and 'durations'. Offering users a choice can help you target your app to different user segments, which can help you boost app revenue.
It is sometimes beneficial to offer multiple 'levels' of a subscription, such as a 'Basic' and 'Pro' plan. For example, if you have a file storage app, you might have a '10GB' and '50GB' subscription level. These levels cater to different user needs, allowing you to differentiate your product offering. On the other hand, if you offer only one level, some users might think your price is too high. Either way, it's important you strike the right balance – consider very carefully before using more than 2 levels.
You can also offer discounts for users that take out longer duration subscriptions. Users that subscribe to a 1 year option will have a greater lifetime value than users who subscribe to a 1 month option. So offering a discount for longer durations could have a positive impact on your app's revenue. If your subscribers stay for months rather than years, you should be more aggressive in your discounting.
You might also consider the effect of psychological pricing on your subscription offering. If you offer multiple subscription levels, a more expensive level can act as a price anchor to a less expensive level. That would make users more likely to purchase.
Apps in Any Category Can Use In-App Subscriptions
Some time ago, there were stringent rules on which apps could use subscriptions. This could, in part, explain why so few apps, including mobile games, are using subscriptions. But Apple has recently updated the App Store Guidelines. Apps in any category can now use subscriptions and so we could see more subscription-based apps published in the future.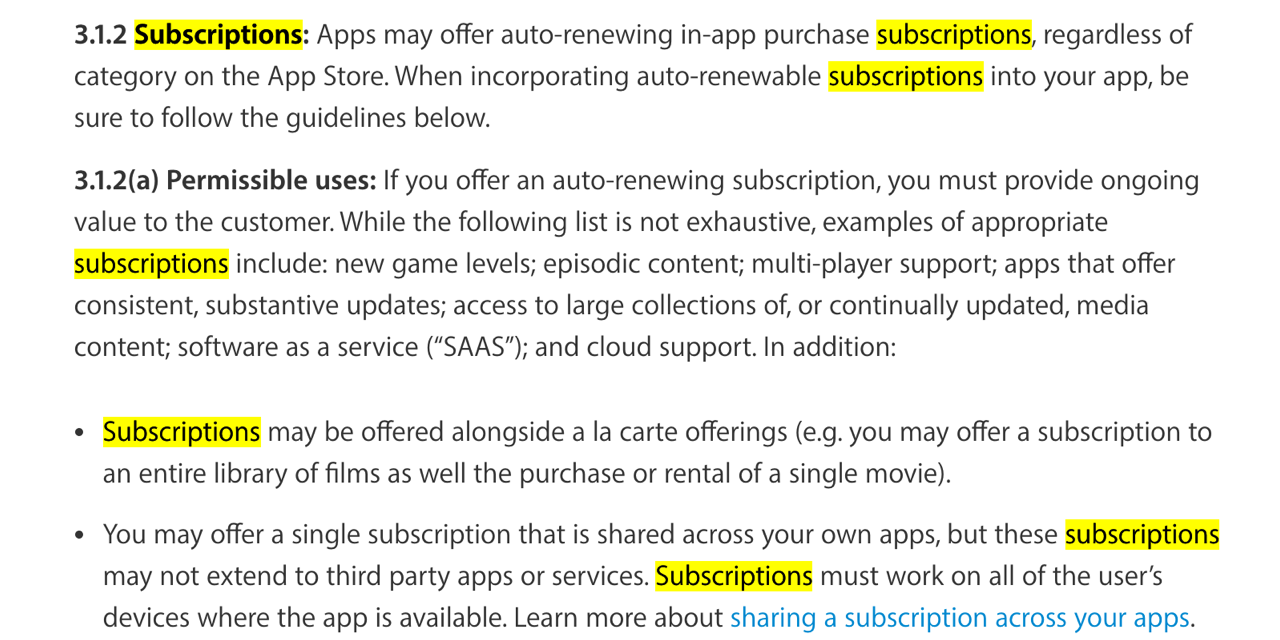 Although it is probably true that most mobile games should use in-app content to monetize, there are a few games that use subscriptions. Disney's Club Pengiun, for example, offers 1 month, 3 month and 6 month memberships.
Google and Apple Want You to Use In-App Subscriptions
Google and Apple both like in-app subscriptions. In June, Apple announced they will take just 15% of a subscriber's payments after year one, keeping the current 30% revenue split for the first year. In some way, the higher year-one fee represents an 'acquisition cost'. But, since subscriptions are extremely profitable, it also acts as an incentive for app publishers to capture and retain subscribers over the long term. As John Gruber covered,
Apple is now opening it to apps from any category, which effectively solves the problems of recurring revenue and free trials. Even better, Apple is changing the revenue split for all subscriptions: for the first year of any subscription, the revenue split remains 70/30; after the first year, the revenue split changes to 85/15. […] In [the words of Phil Schiller, senior vice president of worldwide marketing at Apple, ] this is "in recognition that the developer is doing most of the work" with any app that is so good that the user remains a paid subscriber for over a year.
Within days, Google made a similar announcement saying they will take 15% in every year of the subscription, not just after 12 months. In contrast to Apple, Google's restrictions on subscription apps was far more liberal in the past.
Why are the app stores making these changes? The most likely reason is because they both see tremendous value in in-app subscriptions, and want to encourage app publishers to adopt the monetization strategy. As I mentioned at the start of this blog post, just 5% of popular apps currently use subscriptions. Perhaps these changes could incentivize app publishers to build more subscription-based apps.