Mobile games discount their large virtual currency bundles to encourage gamers to spend more in-app. In this blog post, we look at the discount models of popular mobile games.
An in-app virtual currency is a common monetization technique in mobile games and presents a good way to boost app revenue, while remaining a crucial part of gameplay experience.
Most apps using virtual currencies allow gamers to buy 'coins', 'gold' or 'candies' in various bundle sizes. These different bundle sizes perhaps cater to different types of gamer. But they also allow the app publisher to provide discount incentives for gamers to spend more on in-app purchases.
The popular game Clash of Clans makes its bundles available in sizes of 500, 1,200, 2,500, 6,500 and 14,000. Gamers buying the largest bundle size save almost 30% compared to the smallest bundle size offered by the game.
But every publisher sets their own bundle sizes and their own discounts. While Clash of Clans is rather middle-of-the-road when it comes to discounting, some games like Dream League Soccer 2016 are far more aggressive in their approach. It is not uncommon to see discounts of 50% of more for the largest bundle sizes.
Virtual Currency Bundles: Discounts in 5 Popular Apps
As part of Sweet Pricing's research into app monetization, we have looked at the virtual currency discount models used by the most popular apps. We have found little consistency between apps for the range of bundles offered and the aggressiveness of discounts.
The following chart demonstrates a sample of 5 popular games that we analyzed. It shows the level of discount offered for each size of bundle. Because each games offers different bundle sizes, we have normalized the sizes to match those of Clash of Clans. The horizontal axis is log-scaled, which makes it easier to see the full range of bundle sizes: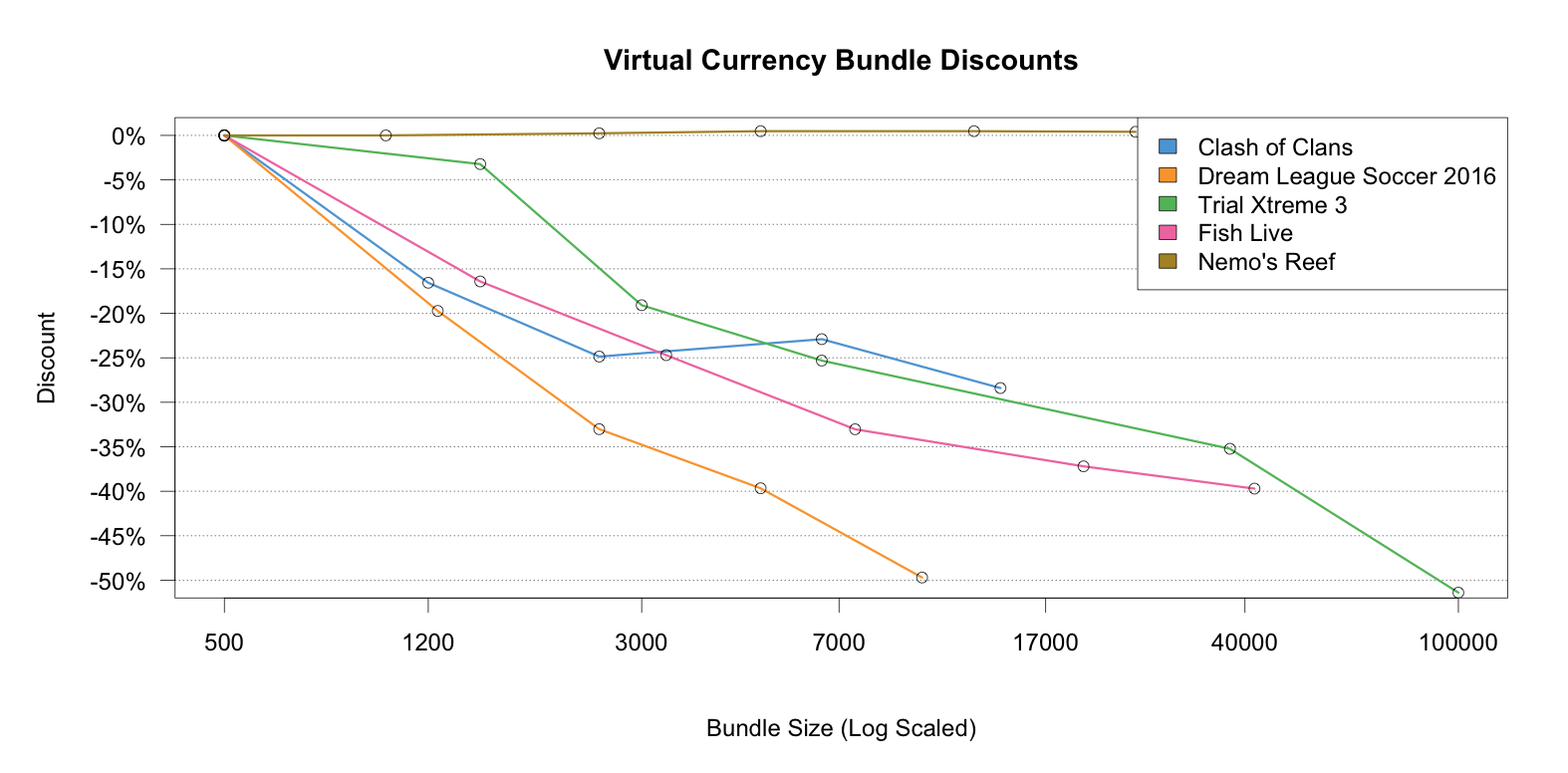 The only game we analyzed that did not offer discounts was Nemo's Reef, which is a family-friendly app that Disney publishes. It certainly makes sense for games targeted at children to be transparent and uncontroversial. Few games draw attention to the discounts they offer and most gamers would, I suggest, assume that mobile games applied discounts to larger virtual currency bundles. Our research has shown this assumption does not always hold true.
The other 4 apps did offer discounts as gamers purchased larger bundles. (Well, except for a small blip with Clash of Clans—the 6,500 bundle at £39.99 actually works out more expensive than the 2,500 bundle at £14.99. But only just.)
Trial Xtreme 3 was unique in offering aggressive discounting but also having a very wide range of bundle sizes. The app sells its bundles as in-app purchases ranging from £0.62 to £60.27, with the largest bundle being more than 50% cheaper per currency unit. Dream League Soccer 2016, on the other hand, priced its bundles at £1.49 for the smallest size and £14.99 at the high end.
Average Discounts Applied to Large Virtual Currency Bundles
It is interesting to look at the average discounts applied to virtual currency bundles. Because each game offers different bundle sizes, the best we can do is analyze the bundles in order of size (or rank). The table below the range of discounts offered. We have exclude Nemo's Reef from the calculation, since the game does not apply discounting at all:
| | |
| --- | --- |
| Bundle Size | Average Discount |
| Smallest | 0% |
| 2 | 14.0% |
| 3 | 25.4% |
| 4 | 30.2% |
| 5 | 37.6% |
| 6* | 45.5% |
Once we have looked at the data, it is obvious to us that discounting models differ significantly from publisher to publisher, and indeed from game to game. To work out the best prices for your in-app virtual currency bundles requires experimentation. It is likely that the apps we have analyzed have refined their discount model over time, to find something that incentivizes gamers to spend more in-app and, as a consequence, increase app revenue.
Share Your Thoughts
Do you have any success stories experimenting with virtual currency discounting?
How did your team decide on your current model?
Do you regularly review the prices of your in-app content?